When the East meets the West.
When the East meets the West.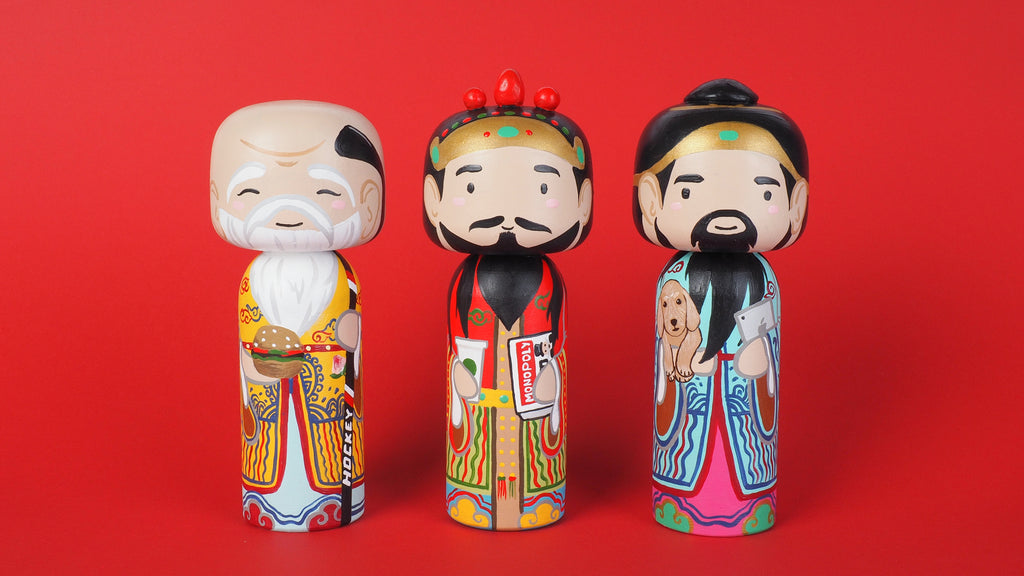 Introducing the "East meets West" Kokeshi collection.  Hand-painted Kokeshi highlighting the Asian and western cultures.   This Kokeshi incorporates the popular Asian home decor with a western twist. 
The Fuk Luk Sau home decor represents  the energy of good luck (right), promise of success and wealth (centre), and longevity and good health (left).   I have painted the same 3 characters but contrast them with things that are popular in western world. 
The traditional way to read Chinese is from right to left.  Hence, Fuk is placed on the right, Luk is placed in the centre, and Sau on the left.
For the character, Fuk (right), often he is holding a scroll (education) and child but instead I use a puppy pet and tablet which are quite popular in western lifestyle.
For the character, Luk (centre), instead of gold, I used the boardgame, "Monopoly" to represent wealth and power and of course sipping a cup of Starbucks coffee while playing.
For the character, Sau (left), instead of the longevity peach steam bun, I used a  burgers.  A staff is replaced with a hockey stick as it is one of the favourite sports in Canada.
They are now available at under the "East Meets West" Kokeshi collection.
https://itzyzazzy.com/collections/east-meets-west